San Diego—Last fall, brentuximab vedotin (BV) was approved as part of a combination for the first-line treatment of CD30-expressing peripheral T-cell lymphomas (PTCLs)—even before the full data from a registration trial were published or presented—via a new streamlined FDA approval process.
About one month after the approval was granted, the full data from the registration trial, called ECHELON-2, were presented at the 2018 annual meeting of the American Society of Hematology (abstract 997) and published in Lancet(2018;393[10168]:229-240).
In the multinational phase 3 trial, investigators led by Steven M. Horwitz, MD, an associate attending at Memorial Sloan Kettering Cancer Center, in New York City, randomly assigned 226 patients to receive BV (Adcetris, Seattle Genetics) plus CHP (cyclophosphamide, doxorubicin, prednisone) or CHOP (cyclophosphamide, doxorubicin, vincristine, prednisone) for six to eight 21-day cycles.
Progression-free survival (PFS) was evaluated by blinded central review. At the time of enrollment, 80% of the patients had stage III (27%) or IV (53%) disease.
The median PFS was 48.2 months in the BV-CHP arm versus 20.8 months in the CHOP arm, producing a hazard ratio of 0.71 (P=0.011). Although the median overall survival (OS) was not achieved in either arm after a median of 42.1 months of follow-up, the estimated OS at three years was 76.8% for BV-CHP versus 69.1% for CHOP. This difference reached statistical significance, but P values are being withheld until longer follow-up permits the advantage to be better characterized.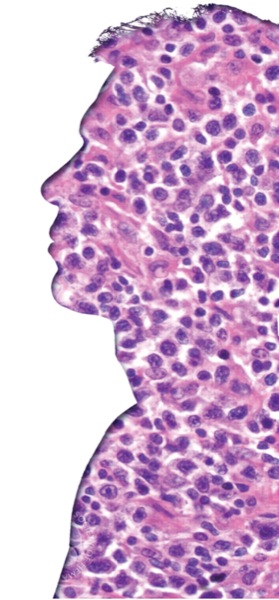 The adverse events (AEs) associated with CHOP, including nausea and vomiting, cytopenias, and neutropenia, have been well defined, but the addition of BV added little to the types or severity of AEs. For example, peripheral neuropathy was observed in 52% of those in the experimental arm and 55% of those receiving CHOP. Febrile neutropenia was reported in 18% of those receiving BV-CHP versus 15% of those receiving CHOP.
ECHELON-2 has confirmed an advantage for BV-CHP in CD30-expressing PTCLs, according to Kelly Valla, PharmD, BCOP, a clinical pharmacy specialist in hematology/oncology at Emory Healthcare's Winship Cancer Institute, in Atlanta, but there are additional clinical considerations. "Providers and pharmacists should be aware that inclusion criterion for ECHELON-2 required CD30 expression of at least 10%, which is not included in the FDA-labeled indication," she said. With the exception of systemic anaplastic large cell lymphoma, which uniformly expresses CD30, this surface antigen is variable across PTCL subtypes, according to Dr. Valla. As a result, clinicians "may want to consider adding CD30 to their pathologic workup to justify use of this regimen."
In addition, although granulocyte colony-stimulating factor (G-CSF) was employed at the discretion of the treating investigators, the rate of neutropenia in those who received this therapy was only 16% versus 49% in those who did not. The rate of febrile neutropenia also was slightly lower (16% vs. 20%) in those receiving G-CSF.
Rates of peripheral neuropathy were high in both arms of the study and generally reversible, but there is evidence that this AE "may require a longer recovery period in those treated with BV-CHP," Dr. Valla cautioned.
The pharmacoeconomics of employing BV-CHP rather than CHOP was not explored in the ECHELON-2 trial, Dr. Valla said, but she added that "use of BV in place of vincristine, coupled with the additional recommendation for primary prophylaxis with G-CSF, is likely to result in additional upfront treatment cost."
—Ted Bosworth